Kurtis are known for their elegant and stylish appearance. It one of the most stylish styles of Indian attires that are ruling the clothing industry. From traditional events to casual parties, women can wear it anywhere she likes. But whenever we want to pick the right bottom with kurtis, the task becomes quite difficult as there are so many options. And on the days when you want to look less traditional, you will get confused. But in reality, there is nothing to worry about. Simply pick your jeans and combined it with your kurti, There are so many options in jeans, and you just have to combine accordingly.
Whether it's Long or Short kurtis, both look perfect with jeans. It will work just like a long top and give you a unique appearance. Here are 8 such stylish kurti designs that will look amazing with jeans:
Party Wear Long Kurti: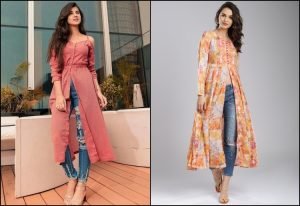 The Party wear kurtis with long pattern and front slit looks extremely rocky. It gives the traditional feel with a partying feeling. You will admire its traditional as well as modern look. Pair the party wear long kurti with jeans and high heels and become a star of the show. You can choose the neck pattern, sleeve designs and slit length according to your choice.
Buttoned Kurta: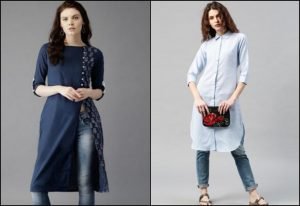 The perfect combination of Indian and western attire is a buttoned kurta. It looks exactly like a shirt with a long length. The buttoned kurta will combine well with the jeans and add newly effect to your wardrobe. This combination can be worn to work or college. These will feel extremely comfortable on the skin and you will look formal in it.
Up-Down Long Kurti:
The Up-down Long kurti are just like the high low style of kurti but with a longer length. It looks great with jeans and gives you modern vibes. You can choose it with stylish prints and look trendier in it. This combination is the first choice of most of the actresses. So pick the best colour and length for yourself and feel special in it.
Short Kurtis with trendy print:
The Short kurtis can never go out of fashion because of its comfort and style. It looks perfect with jeans and gives you a balanced look. You can pick a short kurti with trendy prints and add a unique and modern touch to it. Also, you can choose from hundreds of neck designs and enhance the beauty of these short kurtis. Overall, these are the best kurtis to combine with jeans.
Multi-slit kurtis:
As the name suggests, the Multi-slit kurti designs come with many slits. It is very much and trend and mostly picked by modern ladies. When you combine these kurtis with jeans, it becomes a combination to bring the spotlight on you. While choosing these kurtis, go for the vibrant colour and right places of slits. The right choice will make you look modish.
Jacket Kurti: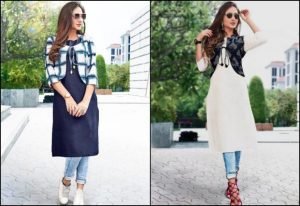 Do you know kurtis are also found in the jacket style? Yes, these are one of the trendy and unique styles of kurtis that will definitely look the best with jeans. You can wear these kurtis like a jacket and wear a plain t-shirt underneath it. This will look vogue and classy on every women. You will be able to rock the show with its distinctive appearance.
One Side Slit Long Kurti: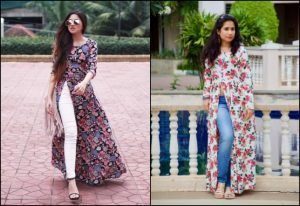 Having a slit on the one side gives an ideal look to the kurti. These are perfect for casual occasions and looks stylish with jeans. As these are long, the long slits will add a more casual touch to it. You can even expose your beautiful curves in this kurti. Wearing them with jeans will make it an ideal choice for all modern women. You will feel comfortable in this trendy kurti top.
Semi Sheer Short Kurtis:
The semi sheer short kurtis comes with a little see-through effect, which makes it casual. You can wear a sleeveless top under it and combine it with your jeans. It will look perfect on you. You will enjoy its causal touch while enjoying the style. Pick this piece in the vibrant colours and flowy effect and feel very comfortable in it.
You are lucky that there are so many jeans and kurti options available in the market. And wearing your jeans with modern tops and kurtis with the ethnic bottoms are sometimes very boring. So why not combine them together? The jeans and kurti combinations will make you feel extremely comfortable and modern. The right choice will be perfect for any occasion, venue and season. The above-given kurti options will look perfect with your jeans. So pick up your favourite piece and enjoy its effortless look.
You Can Search Us:
Our Siter Sites: