Spring is just around the corner, which means that it's almost that time of the year when bright hues, flowy silhouettes, and of course, florals, dominate your wardrobe. But before you reach this stylishly refreshing season, you'll have to go through the tricky period of transitioning from winter to spring first. And if you're worried about striking that right fashion balance between these two seasons, there's no need to fret, as we've rounded up some of the top tips for a seamless winter-to-spring wardrobe transition.
Embrace Color into Your Closet
When it comes to winter and spring fashion, it's a tale of two different prints. The former is fond of checkered styles like plaid and houndstooth, while the latter is all about floral prints. Instead of confusing yourself and your closet with the array of prints available, try and embrace earth tones during this tricky time.
As we've previously shared in our article on 'How to Dress Minimally This Fall', colors like military green, beige, brown, mustard, orange, and marsala red are well-suited for the cold weather. Moreover, earth tones will still blend well when spring begins to bloom and you can begin incorporating your floral prints. You can wear one of these colors to complement a print of your choice, or you can combine them into your outfit — an added bonus, as color-blocking is a bold trend you can always trust.
Incorporate Lightweight Sweaters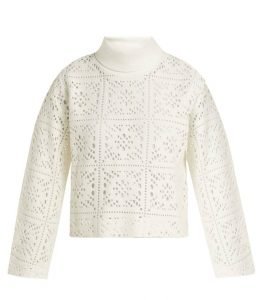 Layering is an essential part of dressing well during the winter, as the freezing temperatures call for multiple layers. But as spring starts its approach, the temperatures will begin to rise, and you'll see your layers lessen. This is why wearing lightweight sweaters such as these featured on MSN are key to transitioning your winter closet to spring, as they're both weatherproof and wardrobe-friendly for both seasons.
If your typical winter ensemble involves a thick coat or leather jacket, you can simply take off the outerwear portion of your outfit and keep on the lovely base of your lightweight sweater when spring comes closer. Don't forget to practice your light layering skills through this transitional time by adding a scarf or a thin cardigan to your looks.
Show Your Old Sweaters Some Love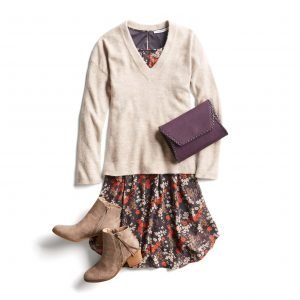 While you're at it, make sure that you aren't completely ditching your cozy knit sweaters, especially if the winter winds have yet to cease, as they can be a useful tool in your winter-to-spring wardrobe transition. Although the sweater and skirt outfit combination is tried-and-tested, clever fashionistas can also layer a sweater on top of a dress.
This is especially helpful on days when the temperature can be a bit unpredictable, as you can simply take off your sweater on warmer afternoons, too. If you're looking forward to wearing bright spring colors, the different dresses featured on Woman Within come in a gorgeous array of colors that all go well layered under a sweater, which can ward off the last of the winter chill. It's also a lovely way to usher in classic spring florals, as dresses in these patterns provide a soft touch to your outfits.
Invest in a Good Pair of White Ankle Boots
Choosing what shoes to wear during this transitional period can be quite challenging — do you weather it out with your knee-high winter boots or start slipping on a pair of spring mules or sneakers? Remember that your footwear should be given equal importance when assembling your transitional ensemble. After all, they can either make or break your outfit.
To help you strike the right balance between winter and spring for your feet, you should invest in a pair of white ankle boots. More than just a trend, this type of shoe can not only keeps you warm in the right places, but also they can be easily paired with any outfit, thanks to their timeless colors. In this regard, these versatile ankle boots from Warehouse is a chic example of the booties you'll need for your winter-to-spring wardrobe transition.