Red is a color that is forever beautiful and young. It suits all and is laden with an air of positivity. A red sari undoubtedly one of woman's most favorite. If you think of it, Red is perhaps the color that is also most suitable for festivity as well.
So, if you are in search of the most perfect red saris that will keep minds bedazzled, here we are with our top picks of Red sarees that are every woman should possess.
Red banarasi Silk Saree
Who does not like banarasi sarees?! This is a type of red sari that is perhaps the most popular. Banarasi saree is only of the best-selling drapes in India. But did you know, the most sold color in banarasi sari is RED?
Banarasi red saree with golden zari work is your perfect pick if you want to attend a festival or a wedding ceremony. It is not a regular wear sari and must be stored with care and be given only for dry-cleaning.
Red Saree in Cotton
If you are searching for a regular wear sari in Red, then nothing can beat cotton. Cotton is a breathable fabric that is widely used by Indian women. A red cotton saree will suit everyone. However, it is especially suitable for newly wedded brides for daily wears. It brings out the oomph factor but maintains sobriety at the same time.
A cotton sari in red with yellow print looks fantastic. It has prints an all over on the body with special printed design on the pallu and borders.
Wanna look fabulous in red every day? Grab this red saree now!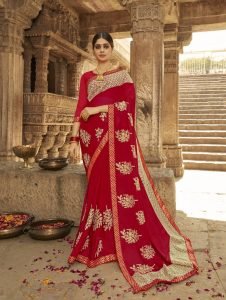 Red Bandhani Saree in Georgette
Georgette is yet another skin-friendly fabric that is perfect for the tropical weather of India. It is made out of silk yarns but is not as pricey as silk sarees. Georgette sarees are porous and flowy and would suit the grace of any female.
In the domain of bandhej or bandhani, the color red does exceptionally well. It is a very favored choice for festivals like Navratri and Teej. A red saree with Bandhani work that has mirrors on it is a combination to die for. Wear it on any festival to exude an aura that none can overlook.
Kota Doria Red Sari
A red sari in Kota Doria is yet another worthy addition to this list. It is a new saree design that is laden with hand block print. You will love to wear this sari during the summers and also winters. It has a grace and a class that cannot be compared to any.
Red Sari with Patola Design
This red patola saree is laden with striking motifs in multiple colors that is as dynamic as your personality. Although parole is a traditional type of sari weaving technique, yet this particular drape is a new sari design that will garner a lot of compliments for your contemporary yet traditional taste.
Red Sari with Real Zari Work
The word 'Zari' denotes threads of the alloy of gold and silver. This particular red sari in our collection has a woven zari design that will enthrall all the beholders. It is a traditional red sari that is a perfect match for festivities and wedding occasions. It will be an absolute stunner in your collection of sarees.
Printed Georgette Red Sari
A list of Red Saris is simply not complete without the inclusion of a printed red georgette saree in the list. The fabric is flowy has simple prints on it to enhance your charm. This sari is perfect for fashionable women who like to look their best on a daily basis.
You Can Search Us:
Our Siter Sites: